Riding on the South Pedlar ATV trails
Not much to see here right now. We're waiting on all the cool shots from Jeff. Wait until you can check out Jeff and Neil's first harescramble (link will go here), the pictures should be in soon.
The South Pedlar ATV system is just outside of Lynchburg, VA. It is located just off the Blue Ridge Parkway. I'm not sure about the specifics of the trails, but there are medium to wide woods trails with lots of little whoops and jumps. There are also enough rocks and roots along with shale in some precarious off camber turns to keep any rider on his/her toes. The other thing to watch out for is oncoming traffic, there are no specified directions on the trails so it's each riders responsibility to keep an eye out for the next. The trails consist of a nice variety of challenges from gravel fireroads, wide dirt trails, narrow muddy trails, boulder (big rocks anyway) infested, soft dirt, slick shale, roots, sand, trees and many man made obstacles (otherwise known as jumps). The trails are usually in great shape and most of the people out there are friendly and having fun.
Hopefully we'll have some more pictures soon!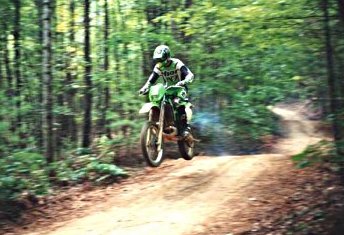 Neil catching some air at Pedlar on his 198? KDX200 [Aug 11th 2000]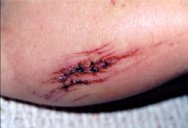 Garrett's arm (forearm just below the elbow) a few days after his first ride at Pedlar. Just a few stitches, note: must get elbow pads... [Jun 4th 2000]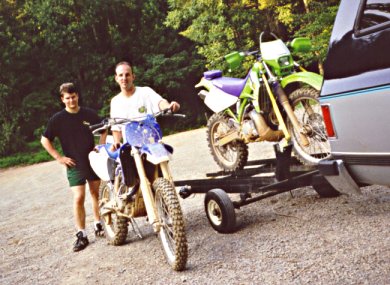 Garrett and Andrew with Andrew's 1999 Yamaha YZ400F and Jeff's 1998 Kawasaki KDX220R, loading up to go home [Aug 5th 2000]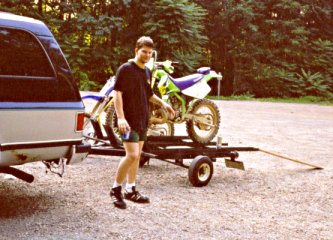 Garrett in front of the KDX and YZ [Aug 5th 2000]